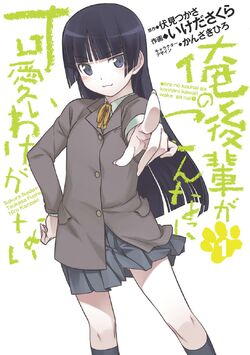 俺の後輩がこんなに可愛いわけがない, lit. My Junior Can't Be This Cute), or Orekou (俺後), is a spin-off manga series based on the Ore no Imouto ga Konna ni Kawaii Wake ga Nai light novels by Tsukasa Fushimi. The manga series began serialization in the July 2011 issue of Dengeki G's Magazine. With illustrations by Sakura Ikeda, it features Ruri "Kuroneko" Gokou as the main protagonist.
OreKou follows the story of the light novels, set at the time when Kirino Kousaka leaves for America to undergo athletic training. While the OreImo anime series tells the story in Kirino's elder brother Kyousuke's point of view, OreKou focuses more on Kuroneko's experiences as Ruri Gokou, a high school freshman who becomes Kyousuke's junior. While Kuroneko struggles in mingling with her new classmates, she tries to sort out her feelings for Kyousuke.
Community content is available under
CC-BY-SA
unless otherwise noted.