Ria Hagry ( リア・ハグリィ , Ria Haguri?)is a track and field athlete, also Kirino's rival. Kirino met her in America when Kirino was drafted by a famous track coach in episode 12 (True Route). When Kyousuke persuaded her to return to Japan in episode 15, Kirino said that she promised to beat the best runner before returning to Japan. She revealed to Kuroneko that certain runner was Ria Hagry.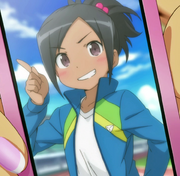 Ria later went to Japan and stayed at the Kousaka residence on
S2 episode 04
. Ria is shown as an innocent energetic girl who doesn't care much about anything other than her hobby, running. Ria viewed Kyousuke and Kirino as if they were her bigger siblings. Despite being a foreigner she can speak Japanese. Ria toured
Akihabara
with Kirino and Kyousuke and later revealed that she came to Japan because she wanted to have a revenge match against Kirino and successfully outran Kirino again.